Out of the few night-outs I have had in office, this one was special. Well, technically it was not a night out as we left back around 2 am, but the experience was unforgettable and as I have videos to back it up, so I decided to write about it.
It was 30th May 2008 and posting forms work was in full-swing. The 3 of them (Neha, Poorva and Gunjan) decided to work late. I was not in any mood to stay the whole night in office so we decided that we will complete our work and leave by 12 midnight. So, they all started work and I started watching a movie so that it would be over by 12.
Toy Story is a good movie, and it is fun to watch when people around you are working hard and trying to concentrate. The movie got over at 12 and as expected their work as not over yet and they decided to burn the whole night coding. That was too much for me and I decided that its time for some fun now… 🙂
But I didn't knew what was in store for me that day (or night). I was attacked, I had to attack back (only in self-defence) and there were people who did the job of "Aag me Ghee Daalne Ka". The below video clearly demonstrate how 2 people are talked up to actually start up a fight.
Now, before you watch the videos, some points to note. Firstly, the commentary might make me look like the biggest culprit because it is done by the "Aag me Ghee Daalne Wali". Secondly, we will come back to this point later.
So here goes the first video, the Fire Igniter
Some people just need a reason to attack, verbally or physically, and she is one of that kind. The below video will demonstrate how was I attacked and I had to run all over the office for my survival to stay dry. Not all are lucky though, and I was drenched.
So the second video goes below!! Holi Hai!!!
People who know me knows that I am the seedha saadha saint guy but when troubled, you are asking for trouble, big trouble 🙂 So I acted, only in self-defence, and this was the second point to note which I left for later above. The below video captures some part of it where I attacked but fails to capture when 3 dangerous gals attacked me back and the whole cafeteria was flooded. So here goes my small attack :-
By this time, it was around 1 am and we realised it was the office (not some playground) and there were CCTV s installed (god knows whether they were working or not, hopefully not!!). So we thought what might be in store for us the next day as the security guard has taken a couple of rounds around the area and we pretended as if nothing has happened. But the wet floor and carpets were testimony to what we had done.
So the cleanup act started. Me, Poorva and Gunjan started the cleanup act, using newspapers and tissue papers to soak the waters from wherever possible. Neha, as usually lazy, was only filming the whole process rather than helping us out. Well, that was also necessary and I am really grateful she took these videos that day!! So here goes the Cleanup Act :
As people say, strange situations can lead to unknown capabilities being discovered in human beings. And that night we got the proof. Poorva had a tremendous ability to clean things up, even use a pocha (sweeping cloth) in the process. As her coding, her ability to finish any task to perfection was clearly evident here. Here goes the video as a proof. Don't go at everybody laughing at her, because every wise and great man was once laughed at!! I hope the same goes true for ladies as well!!
To know what happened to those Posting Forms for which they have worked so hard, they finally went live on 20th August, the below image is one from that day showing the tremendous multi-tasking abilities of the Ghee Specialist.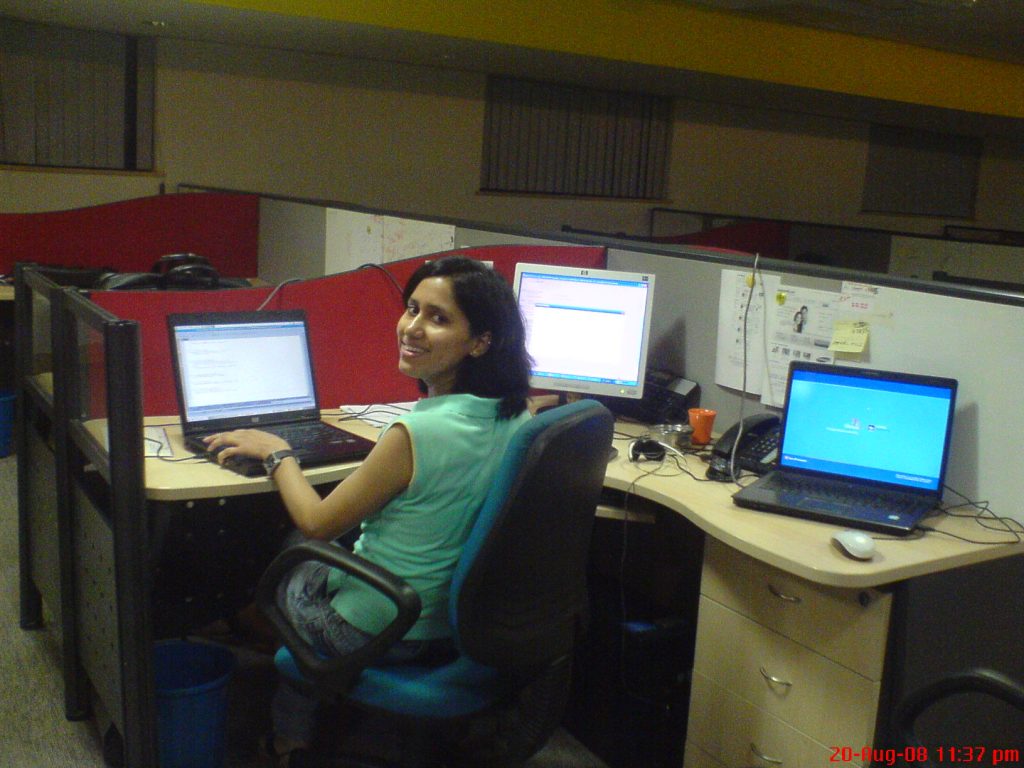 Your comments are welcome!! And I am missing those days… There are many other stories but there are no videos to support me, and my scars have also healed, so lets end here.