Hi all, an incident happened with me two weeks ago which I would like to share with all. I think using the Right To Information (RTI) act will help me in this, but I have no idea how to go about it or whether it is even possible or not.
Two weeks ago when I was coming back to my home after work, I took a left turn at a traffic signal. The crossing (at Domlur) does not have a free left so I took a left only after confirming the green left signal. As soon as I took the left turn, a traffic cop stopped me for jumping the signal. He asked me to pay the Rs 100 fine but as I was sure that I had turned left only after confirming the signal, I refused to pay the fine. He told me that I had jumped the signal and explained to me by taking me back to the signal. He mentioned that it could be that I saw the green signal some 100 m before the signal and didn't bother to check it just when I was at the signal. It was basically my word against his. I asked him if I refused to pay the fine, what else could be done to verify whether I had actually jumped the signal or not.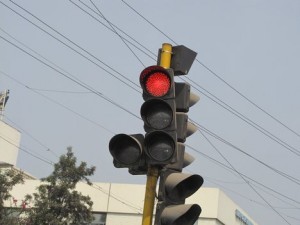 The traffic cop then explained to me the process of giving a notice after which I had to go to Mayo hall office and get it confirmed via a camera situated at the signal. In this case, if I am proved right, I will not have to pay the fine or else I have to pay Rs 400 fine if I was wrong. I further enquired about how soon did I have to go to get the notice verified, to which he replied, within 48 hours. As I had other commitments over the next two days which I could not miss, I had no other option other than to pay the fine. So I paid the Rs 100 fine and got the blackberry receipt which is the norm now in Bangalore.
Now I have the receipt which has an ID, the violation, the place and my vehicle number. But I still want to confirm whether I jumped the signal or not. And since this is an auto-generated receipt with an ID and time, there must be a way to get this record and verify the same. I am sure the RTI act can be used for it. But I have no idea about how to go about submitting an RTI application, or whether it would be even applicable in this case or not. So if anybody knows about how I can go about in this situation, please contact me so that I can pursue the matter further.